+ Your cart is empty
2007 Playoff Contenders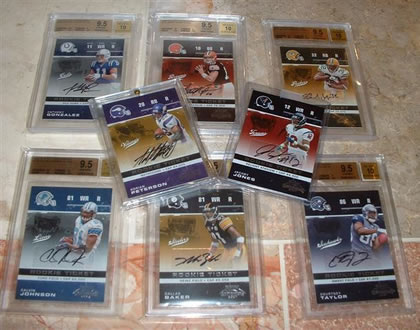 The 2007 Playoff Contenders football card set is very appealing to collectors because of its 140 autograph rookies, the many short print rookie cards, and the great design. This is a very hard set to complete because of the limited short print of some of the autograph rookie cards; such as Kenny Irons, unsigned rookie numbered to only 50 (highest price that I saw one sell for was $690.00), Joe Thomas /129, Adrian Peterson /355, Calvin Johnson /525, Sidney Rice /529, Darrelle Revis /533, and Marshawn Lynch /533.
KENNY IRONS card was a redemption that did not get signed. The player got injured in training and never returned to the Bengals. When the card did not get signed, Donruss redeemed the Kenny Irons card unsigned with a 2008 Silver Signatures Dan Marino autograph #SS-DM SP /64, a John Riggins 2008 Playoff Silver Signatures autograph SP, and a 2008 Phillip Rivers Limited Monikers aoutograph SP /17. At least that is what they sent to me.
THERE CAN ONLY BE 50 COMPLETE SETS.
The common rookies sell for an average of $7.00, so it is best to buy in bulk to get the best possible price. The short print rookies sell for much more usually the larger amount on money usually depends on the print run.
Some other helpful hints:
SIGNATURE VARIATIONS:
Adrian Peterson autograph rc has 2 different signatures, one with his name and one with his name followed by the #28. The majority of these cards do not have a clear signature due to the use of stickers by Donruss. Most Peterson's have the signature written off of the sticker. If you are a BGS collector: I have not seen a BGS 9.5 with a 10 for an autograph to date. There are quite a few 9's with 10 and 9.5's with 9's. 2. Amobi Okoye also has 2 different signatures, one with his name and one with initials. The initials being the more rare.
Other cards to be aware of with signatures written off of the sticker are: Amobi Okoye, Anthony Spencer, Aundrae Allison, Adrian Peterson, Joe Thomas, Kenneth Darby, Kolby Smith, Pierre Thomas, Jacoby Jones (I have only seen 5 in the past five years), Syndric Steptoe, Turk McBride, Sidney Rice, and Stephen Nicholas.
Pierre Thomas fans: I believe he has rookie cards in only about 3 sets which makes this card very sought after.
Marshawn Lynch and Tony Hunt signed their cards with blue ink, they are not variants: all of their cards are like this.
BROWNS FANS, Brady Quinn is short printed to 534, Joe Thomas 129, Eric Wright 273, and Syndric Steptoe 149.
Card #117 Brandon Mebane's autograph and #228 Thomas Clayton's autograph seems to have been written with a bad marker. I have seen very few with good signatures.
I hope my post has helped those collecting this set. The reason why I have so much knowledge about this product is because I have completed the set and have a second one started. So far 100 of the 140 autographs are BGS graded as 9.5 with a 10 for an autograph. I am hoping that when it's all said and done that I will have a complete graded set of 9.5 with 10's for the autograph. It will probably take me years, but its worth it to me.
- Matt Schaffer
2007 Playoff Contenders SP List
| | | | |
| --- | --- | --- | --- |
| Card Number# | Player | Team | Qty |
| 103 | Adam Carriker | St. Louis Rams | 333 |
| 104 | Adrian Peterson | Minnesota Vikings | 355 |
| 106 | Alan Branch | Arizona Cardinals | 326 |
| 115 | Brady Quinn | Cleveland Browns | 534 |
| 122 | Buster Davis | Detroit Lions | 246 |
| 123 | Calvin Johnson | Detroit Lions | 525 |
| 124 | Chansi Stuckey | New York Jets | 502 |
| 125 | Charles Johnson | Carolina Panthers | 303 |
| 134 | Dan Bazuin | Chicago Bears | 198 |
| 135 | Dante Hughes | Indianapolis Colts | 383 |
| 137 | David Irons | Atlanta Falcons | 198 |
| 138 | Darrelle Revis | New York Jets | 533 |
| 139 | David Clowney | Green Bay Packers | 410 |
| 141 | DeShawn Wynn | Green Bay Packers | 429 |
| 144 | Dwayne Jarrett | Carolina Panthers | 484 |
| 145 | Dwayne Wright | Buffalo Bills | 410 |
| 147 | Eric Frampton | Minnesota Vikings | 452 |
| 149 | Eric Wright | Cleveland Browns | 273 |
| 157 | H.B. Blades | Washington Redskins | 383 |
| 158 | Ikaika Alama-Francis | Detroit Lions | 222 |
| 159 | Isaiah Stanback | Dallas Cowboys | 510 |
| 160 | Jacoby Jones | Houston Texans | 435 |
| 161 | Jamaal Anderson | Atlanta Falcons | 123 |
| 164 | Jared Zabransky | Houston Texans | 347 |
| 165 | Jarvis Moss | Denver Broncos | 227 |
| 167 | Jeff Rowe | Cincinnati Bengals | 362 |
| 168 | Joe Thomas | Cleveland Browns | 129 |
| 169 | Joel Filani | Minnesota Vikings | 483 |
| 174 | Jonathan Wade | St. Louis Rams | 365 |
| 176 | Josh Wilson | Seattle Seahawks | 501 |
| 179 | Kenny Irons | Cincinnati Bengals | 50 |
| 183 | Kolby Smith | Kansas City Chiefs | 444 |
| 190 | Levi Brown | Arizona Cardinals | 369 |
| 192 | Marcus McCauley | Minnesota Vikings | 386 |
| 194 | Marshawn Lynch | Buffalo Bills | 533 |
| 199 | Matt Spaeth | Pittsburgh Steelers | 237 |
| 202 | Michael Okwo | Chicago Bears | 261 |
| 203 | Mike Walker | Jacksonville Jaguars | 248 |
| 205 | Patrick Willis | San Francisco 49ers | 239 |
| 209 | Quentin Moses | Arizona Cardinals | 498 |
| 210 | Ray McDonald | San Francisco 49ers | 519 |
| 216 | Ryne Robinson | Carolina Panthers | 430 |
| 217 | Sabby Piscitelli | Tampa Bay Buccaneers | 337 |
| 220 | Sidney Rice | Minnesota Vikings | 529 |
| 222 | Steve Breaston | Arizona Cardinals | 274 |
| 223 | Steve Smith | New York Giants | 541 |
| 225 | Syndric Steptoe | Cleveland Browns | 149 |
| 227 | Ted Ginn Jr. | Miami Dolphins | 519 |
| 229 | Tim Crowder | Denver Broncos | 454 |
| 230 | Tim Shaw | Carolina Panthers | 408 |
| 237 | Victor Abiamiri | Philadelphia Eagles | 449 |