+ Your cart is empty
About Matt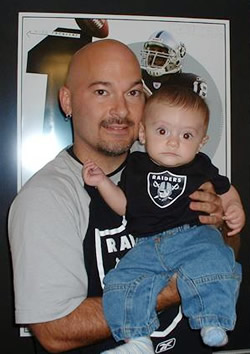 MJSchaffer or Matthew J Schaffer is a football card collector and NFL fanatic. He spends his Sunday's watching football on 2 different screens while keeping track of his fantasy points on the computer. His favorite sports teams are the RAIDERS, the home team, the Browns, the Cavs, the Indians, and Kent State University basketball. He collects Raider football cards and tries to put together one short print set from each year.
Matt also known as MJSchaffer has been collecting football cards since 1988. He had a small break from collecting, but his mother bought him a pack of cards from Wal-Mart for Christmas, where he opened a pack of Topps Debut to find a Ladainian Tomlinson autograph rookie serial numbered to 499. From that day on, he was hooked again. In 2009 he decided to establish this web site to help others complete their sets, build relationships, and maybe his customers will begin to help him complete his.
MJSchaffer Sports Cards and Memorabilia
Here at MJSchaffer.com, we are huge football fans and our emphasis is football card collecting, although our interest in boxing cards has grown tremendously. We will provide services for other sports cards as those opportunities arise. This site highlights our BGS, BVG, and PSA graded football cards, as well as our autograph, jersey, and insert cards and offer them at low prices.
Our line of Autographed memorabilia represents the local players that we have brought in and done autograph sessions with. You can rest assured that if you see an MJSchaffer serial numbered hologram on an item, that the signature was "witnessed" by MJSchaffer or a member of the MJSchaffer family. As we try to be seperate ourselves from our competitors, you will notice that our photos and the player inscriptions are different from what you would normally see elsewhere. All photos are licensed and some have been purchased from the photographers that took them.
Right now, 95% of all raw (ungraded) products on the site have been opened and maintained by MJSchaffer, resulting in high quality sports cards, offered to our customers. You may have noticed that most cards are listed as nrmt+ and nrmt+-mint. Nrmt+-mint means that MJSchaffer has opened these cards himself.
It doesn't matter whether you collect for profit or pleasure, whether you purchase for yourself or as a gift, we are here to make certain you are totally satisfied with your purchases each and every time that you shop with us.
Our goal is to provide our valued customers with outstanding service while offering great prices and the best possible selection of sports cards. We take pride in satisfying our customer's needs and getting their orders to them as fast as possible.
We want our customers to feel like family and be able to e-mail us with all of their collecting wants and needs. We do appreciate feedback on our services and our web site.